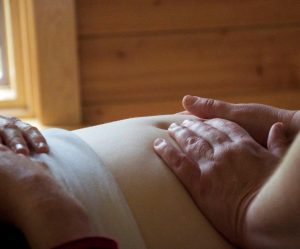 We encourage you to contact us if you would like to be placed on a waiting list for any classes. Our Waiting List Policy.
Please feel free to check in with us if you have questions.
$2000 USD
36 hours – five days
9:00-5:00 all days
All classes are taught in English
All classes are taught in Portland Oregon
November 7-11, 2023  –  one opening
November 11-15, 2024  –  one opening
CST for Pregnancy Birth & Postpartum Class Description:
This class is the required prerequisite for the CST for Pregnancy Birth & Postpartum Certification Program.
There is no question that Craniosacral Therapy is beneficial during pregnancy and postpartum. Yet, there are so few people to do these treatments. I have spent years developing the techniques I teach in this class.I am passionate about enhancing mobility in pregnant bodies. This includes the bony pelvis, the abdominal organs, plus the support structures and lower segment of the uterus. Babies who have more room to grow and move during gestation are less likely to develop conditions like torticollis (and the resultant positional plagiocephaly), hip dysplasia and scoliosis. They are less likely to lodge in the maternal pelvis in a less than ideal birth position such as occiput posterior, military or asynclitic. This means that they are more inclined to be born normally – without surgery, forceps or vacuum extractors. Their labors have a better chance of beginning on time and progressing efficiently. I am also passionate about postpartum Craniosacral Therapy. We can help new parents integrate their birth experiences and recover more completely from both cesarean and vaginal births.
Prerequisites:
Subtle Hands-On Skills, CST – The Basics and CST – Beyond The Basics with Carol Gray are the prerequisites for this class. These classes must be taken in sequence.
In addition, students must be licensed, certified or student health professionals (CMT, CNM, CPM, DC, DDS, DO, IBCLC, LAc, LDEM, LM, LMT, MD, ND, NP, OT, PA, PT, RN, SLP, etc.) or otherwise legally entitled to practice touch therapy. Students may also register if they have instructor approval. Ask me.
Overview:
The focus of this class is CST for the childbearing year. It includes a pregnancy/postpartum anatomy and physiology review plus lectures, demonstrations and lots of supervised hands-on practice with classmates plus pregnant and newly postpartum people from the community. During the class each student will treat two pregnant people and two postpartum people. In order to maximize learning success, enrollment is limited to six students.
The Reading List for This Class
By the the end of this class you should be able to:
Describe the historical and theoretical foundations of the work
Identify physical, energetic and emotional effects of pregnancy, birth and postpartum recovery

Describe the work in a way that people can understand

Position someone safely and comfortably on a bodywork table during the childbearing year

Demonstrate sensitive palpation skills

Use assessment techniques to identify body areas that would benefit from treatment

Locate and release physical, energetic and emotional restrictions

List clinical considerations

Help pregnant people and their babies in utero prepare for birth together

Help create the conditions for babies to assume ideal positions for timely and efficient births

Provide treatments for birthing parents and their unborn babies during pregnancy and labor

Give appropriate take-home therapeutic exercise prescriptions for pregnant people
Practice techniques to reduce fetal constraint
Provide treatments for parents who are recovering from vaginal or cesarean births

Listen to people's fears and concerns without judgment

Know when to refer to a different practitioner

Make a big difference in the lives of the pregnant/birthing/postpartum adults and babies you treat

Become part of a network co-creating better births leading to a healthier society
What's next? After this class you are eligible for:
Students who are registered for in-person classes are required to agree to and abide by the Carol Gray Center for CST Studies COVID-19 Safety Protocols.