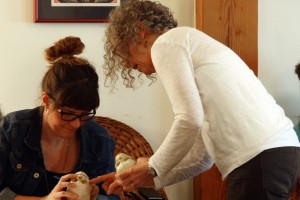 Students who are registered for in-person classes are required to agree to and abide by the Carol Gray Center for CST Studies COVID-19 Safety Protocols.
We encourage you to contact us if you would like to be placed on a waiting list for any classes. Our Waiting List Policy.
Please feel free to check in with us if you have questions.
The following classes are designed for people who want to learn CST skills for infants. The Subtle Hands-On Skills class is the foundation course. It must be taken first. After that, the next step is CST for Infants. Students who have completed Advanced Clinical Skills classes for Infant are eligible for the corresponding Infant CST Certification.
Subtle Hands-On Skills: The osteopathic manual therapy assessment and treatment skills taught in this class form the foundation for my other classes. I have elected to teach these skills first, but they are not necessarily beginner skills. Some of these skills are taught at the more advanced levels in other Craniosacral Therapy and Visceral Manipulation programs. Some of these skills I have developed myself and are exclusive to this class. Read More…
 CST For Infants: The work I do with infants is efficient, powerful and lasting. I have seen amazing results. There are so many infants who would benefit from this therapy and so few people to treat them. I believe that if infants get early treatment they are more likely to realize their life's potential and less likely to need ongoing care. Only a few craniosacral therapy training programs offer any infant treatment instruction. Read More…
CST for Infants – Advanced Clinical Skills: This class gives students the opportunity to observe more demonstration treatments, continue practice under my supervision and participate in a group case review process. That's all we do in this class. I give four baby demonstration treatments and my students each treat four babies. As a group we review all of the treatments provided during the class (28 treatments in all). Read More…

CST for Infants Virtual Case Reviews:
This monthly gathering is a forum for discussing cases, asking questions and giving answers in a confidential peer group. The focus of our discussions will be Craniosacral Therapy for pre-crawling infants. This monthly group experience is free and only open to people who have studied CST for Infants with Carol Gray – no exceptions will be made. Read More…