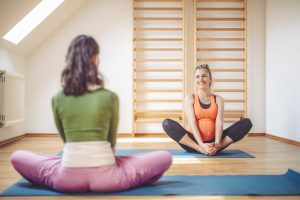 $1600 USD
36 hours – five days
9:00-5:00 all days
All classes are taught in English
All classes are taught in Portland Oregon

Next Offering in 2022

Due to COVID-19, we are making decisions about whether to hold or reschedule our classes about a month in advance of class start dates. We have consistently made the decision to reschedule since March 2020.
We look forward to meeting in-person again to study and practice CST when it is safe for us to do so. We are continuing to add more offerings into 2021 and 2022 in order to accommodate the people we are transferring to future classes. Please feel free to check in with us before registering if you have questions.
MamaSpace Yoga® Prenatal Prescriptions Class Description
I have long recognized that we can accomplish a lot with specifically focused CST treatments for pregnancy. I also know that the effects of seated occupations, driving, television and internet use conspire to undo some of this good work. More needs to be done – ideally every day. Since 2015 I have been developing a system of prenatal yoga with specific mobility goals that pregnant people can do either in classes or on their own. I'm eager to share it with CST practitioners who can use these principles to further help their pregnant clients. Learn more about MamaSpace Yoga here.
It's common for CST practitioners to give their clients homework to support and enhance the effects of the treatments. Pregnancy CST is designed to enhance mobility – especially in the structures that support and surround the uterus. Babies need room to grow and move during gestation. When babies have optimal mobility they are less likely to develop conditions like torticollis (and the resultant positional plagiocephaly), hip dysplasia and scoliosis. They are less likely to lodge in the maternal pelvis in a less than ideal birth position such as occiput posterior, military or asynclitic. This means that they are more inclined to be born normally – without surgery, forceps or vacuum extractors. Their labors have a better chance of beginning on time and progressing efficiently.
In this class you will learn how to give each pregnant bodywork client an individually tailored yoga-based homework assignment informed by what you discover during her CST treatment.
Prerequisite
CST for Pregnancy Birth & Postpartum is the prerequisite for this class. The techniques taught in this class are yoga-based. You do not need yoga practice experience or yoga teaching experience to succeed. Yoga and all forms of therapeutic exercise have significant similarities. The concepts should be familiar territory for all bodyworkers and other health professionals.
In addition, students must be licensed, certified or student health professionals (CNM, CPM, DC, DO, IBCLC, LAc, LDEM, LM, LMT, MD, ND, NP, OT, PA, PT, RN, etc.) or otherwise legally entitled to practice touch therapy. Students may also register if they have instructor approval. Ask me.
Overview
In his four day class we review pregnancy anatomy and physiology. We will explore pregnancy complications and yoga contraindications. We will practice what we preach (yoga). We will review and practice fetal palpation. We will systematically evaluate pregnant people to determine which home yoga-based activities will best support their babies to find ideal positions for gestation and birth. We will practice teaching individualized yoga with each other and with pregnant people from the community. We will give our pregnant clients/patients illustrated hand-outs to remind them how to practice at home.
During the class each student provides three supervised prenatal CST treatments for pregnant people from the community. These treatments will include yoga prescriptions. All student treatments and prescriptions are case reviewed by the group. Students will also observe a MamaSpace group prenatal yoga class. In order to maximize learning success class enrollment is limited to six students.
The Reading List for This class
By the end of this four day class you should be able to:
Determine specific therapeutic goals for people in all stages of pregnancy
Give each pregnant client a yoga prescription that they will actually do
Show each pregnant client how to practice their yoga prescription safely
Teach a pregnant client appropriate pregnancy modifications to their existing yoga practice if they have one
Teach a pregnant client appropriate modifications to accommodate any physical limitation they may have
Demonstrate applicable yoga postures for a pregnant client
Observe a pregnant client in a yoga posture and correct their alignment as needed
Advise a pregnant client about which yoga props (if any) they need for home practice or a non-prenatal group yoga class
Advise a pregnant client how to use things around the home as yoga props if needed
Provide a pregnant client with illustrated hand-outs as a take home reminder
Help pregnant clients make more room for babies than ever before
 Register For Classes     Get On the Mailing List