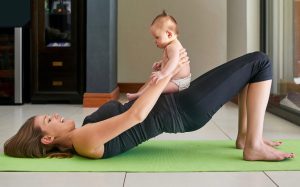 In addition to all the books you probably have already read about pregnancy and bodywork for postpartum, here are a few specifically about yoga for women in the childbearing year:
Yoga: A Gem for Women by Geeta S. Iyengar is a wonderful book about yoga for women at all stages of life. She's BKS Iyengar's daughter, BTW. You gotta have it on your shelf and, better yet, in your hands – read it.
The Woman's Book of Yoga and Health: A Lifelong Guide to Wellness by Linda Sparrowe and Patricia Walden is another Iyengar-inspired yoga text just for women. It has useful information about healing women's bodies and, of course, pregnancy sequences.
Yoga Mama by Linda Sparrowe is written for yogis who want to continue appropriate practice during pregnancy birth and postpartum. I like this book because it gave me some ideas about sequencing and flow. It has recommendations for each trimester.
Iyengar Yoga for Motherhood: Safe Practice for Expectant & New Mothers by Geeta S. Iyengar, Rita Keller and Kerstin Khattab – I love the illustrations in this book. I love the way the material is organized. The instructions are clear. This is THE book – really comprehensive. At first I was overwhelmed by all the props, but over time I have become accustomed to using many of them in my prenatal yoga classes. When BKS Iyengar began teaching yoga to Westerners he found that they had difficulty with the practice. He used ordinary stuff from around the house to help – stuff like blankets, chairs, cushions, belts, books, benches, etc. This was the origin of the standard props we see in yoga studios today. So even if you don't have all of this stuff you can improvise.
These books are your anatomical/biomechanical guides:
Pelvic Liberation by (my teacher) Leslie Howard is my new favorite book all about pelvic health. It incorporates lots of yoga (my favorite). It's good for professionals and good for a self-help recommendation, too.
The Female Pelvis  by Blandine Calais-Germain is accessible, accurate and has an emphasis on pregnancy and birth. It also has illustrated, clearly explained exercises to help women maintain good pelvic health.
Together Tummy by Julie Tupler- Hate the cover photo with the tape measure. Love the book. This book is really excellent. It isn't really about regaining your girlish figure after giving birth. This is a step-by-step guide to assess and resolve Diastasis Recti. You will use the techniques to assess your clients. You will teach them exercises from this book and you will also recommend this book to your clients. This is the updated version of her prior title, Lose Your Mummy Tummy.
Ending Female Pain by Isa Herrera could be listed in more than one category. This is really a self-help book. It can help us have more insight into the lives of women who suffer from pelvic pain and it also has a wealth of things we can recommend to them for self care and referrals.
Alignment Matters by Katy Bowman is wonderful. I have been reading her blog for years. She's a great teacher! Graze your way through the whole book in any order you like. She has arranged past blog posts by subject matter. Pay particular attention to the parts about the pelvis.
Woman: An Intimate Georgaphy by Natalie Angier. This book was updated and republished in 2014. I don't know how the first version got past me. This is a spectacular book about women's bodies and how they work. It is READABLE and scientific – written by a Pulitzer Prize winning author who writes about biology for The New York Times. It's a little long. Reads it anyway.
We earn sales commissions from Amazon.