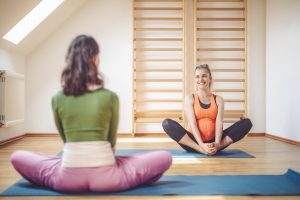 In addition to all the books you probably have already read about pregnancy and bodywork for pregnancy, here are a few specifically about prenatal yoga:

Yoga: A Gem for Women by Geeta S. Iyengar is a wonderful book about yoga for women at all stages of life. She's BKS Iyengar's daughter, BTW. You gotta have it on your shelf and, better yet, in your hands – read it.
The Woman's Book of Yoga and Health: A Lifelong Guide to Wellness by Linda Sparrowe and Patricia Walden is another Iyengar-inspired yoga text just for women. It has useful information about healing women's bodies and, of course, pregnancy sequences.

Yoga Mama by Linda Sparrowe is written for yogis who want to continue appropriate practice during pregnancy birth and postpartum. I like this book because it gave me some ideas about sequencing and flow. It has recommendations for each trimester.
Iyengar Yoga for Motherhood: Safe Practice for Expectant & New Mothers by Geeta S. Iyengar, Rita Keller and Kerstin Khattab – I love the illustrations in this book. I love the way the material is organized. The instructions are clear. This is THE book – really comprehensive. At first I was overwhelmed by all the props, but over time I have become accustomed to using many of them in my prenatal yoga classes. When BKS Iyengar began teaching yoga to Westerners he found that they had difficulty with the practice. He used ordinary stuff from around the house to help – stuff like blankets, chairs, cushions, belts, books, benches, etc. This was the origin of the standard props we see in yoga studios today. So even if you don't have all of this stuff you can improvise.
These books are your anatomical/biomechanical guides:
Pelvic Liberation by (my teacher) Leslie Howard is my new favorite book all about pelvic health. It incorporates lots of yoga (my favorite). It's good for professionals and good for a self-help recommendation, too.
Preparing for a Gentle Birth: The Pelvis in Pregnancy by Blandine Calais-Germain. This book is amazing. Really amazing. The illustrations are fantastic. It takes us through all of the possible pelvic movements and explains their relevance to the birth process. I might make this REQUIRED reading for this class.

The Female Pelvis  by Blandine Calais-Germain is accessible, accurate and has an emphasis on pregnancy and birth. It also has illustrated, clearly explained exercises to help women maintain good pelvic health.
The Belly Mapping Workbook  by Gail Tully is written for mothers to help them figure out the position of their babies in utero. This is also an essential skill for us.